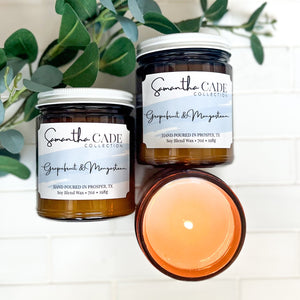 Grapefruit and Mangosteen is a light citrusy blend with top notes of orange, mandarin and lemon while the mangosteen brings a touch of peach and it is rounded out with soft vanilla and red currant.
Each of our candles is a hand poured blend of soy, vegetable and food grade paraffin waxes, paired with a cotton wick and Phthalate-free fragrances from some of the industry's top manufacturers so that we can bring you a long lasting candle with a cleaner burn.
WARNING:
Never leave a candle unattended. Never burn a candle on or near anything that might catch fire. Keep candles out of reach of children and pets. Never touch or move a candle while it is lit and the wax is liquified. Do not burn a candle all the way down. For a margin of safety, discontinue burning a candle when 1/2 inch remains in the container. Place burning candles at least three inches apart from one another. This is to make sure they don't melt one another, or create their own drafts that will cause the candles to burn improperly. Extinguish a candle if the flame becomes too high or flickers repeatedly. Let the candle cool, trim the wick, and check for unwanted drafts before re-lighting. Never use a candle as a night light or while you may fall asleep.