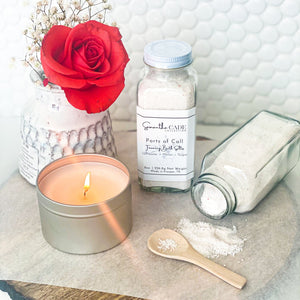 Awaken your senses and relieve sore muscles  with our custom blend of Dead Sea salt, Himalayan Pink Salt and Epsom salts and calm skin with colloidal oatmeal and milk powder. This mineral-rich sea salt helps soften and detoxify the skin and will turn into a luxurious foam when added to running water.
Our Ports of Call Foaming Bath Salt is another addition to our Tony Lucca Collection. It's named after a song he was commissioned to write called "Wife of a Sailor" for a military family.
We wanted this scent to be reminiscent of a seaside balcony with top notes of saltwater and ozone blended with sweet melon, orange, rose and a woodsy musk for a charming, breezy getaway in a bottle.
This information has not been evaluated by the Food and Drug Administration. This information is not intended to diagnose, treat, cure, or prevent any disease or illness.